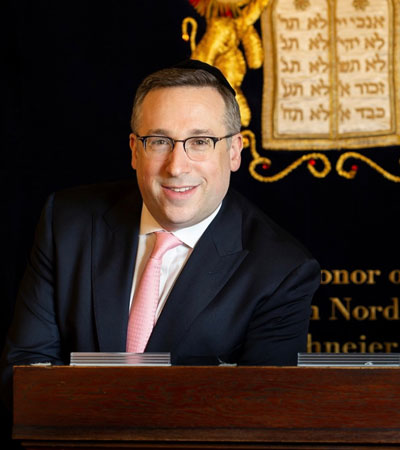 Benny Rogosnitzky is an internationally-recognized cantor known as "Cantor Benny." He provides presentations about the tradition of cantorial music and its significance in prayer. Cantor Benny has served as the Senior Cantor at the Jewish Center on the Upper West Side of Manhattan, New York, for over a decade, and he currently serves as Cantor at the prestigious Park East Synagogue. Cantor Benny is also involved in a leading role with several well known charitable endeavors. He's a board member of JVocals, an Israeli startup that is dedicated to helping Cantors and musicians around the world find Cantorial positions. In addition, he's a senior adviser to the Museum of Eternal Faith and Resilience in Tel Aviv, Israel and is actively involved in many other charitable endeavors benefiting the larger community.
Cantor Benny Rogosnitzky began his career early, and was selected by world famous Cantor, Johnny Gluck, to become a child soloist at the age of nine in Gluck's choir. While growing up, Cantor Benny led the High Holiday Services at Brighton and Hove Synagogues in England, and he carried out his Jewish Studies under the Rabbi's at Manchester Yeshiva and studied music at the Royal Manchester School of Music.
As distinguished Cantor, Benny Rogosnitzky has lectured and written about the practice of both modern and traditional liturgical music, and he has performed at many concerts in New York, London, Tel Aviv, and South Africa.
Benny Rogosnitzky co-founded Cantors World to help promote interest in traditional chazzonus through concerts focused upon quality combined with creativity and cultural authenticity, and arranged to appeal to those who have either a traditional or Chassidic background as well as to those who are secular.